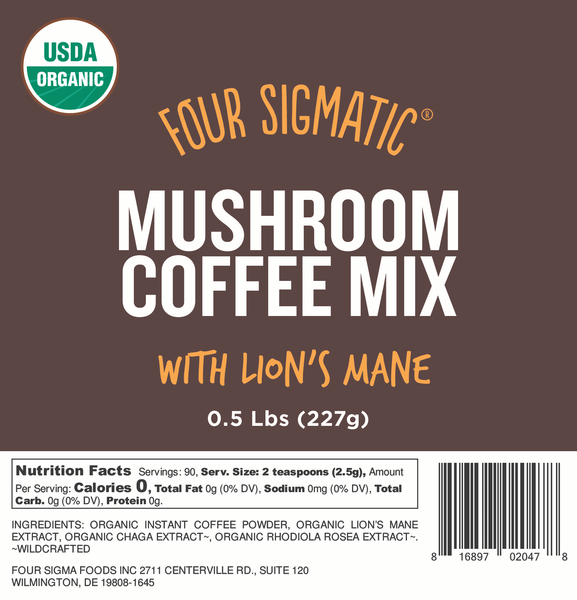 Bulk Mushroom Coffee with Lion's Mane 1/2 lb. Bag (Limit 10 units/order)
What does it do?
Support productivity, creativity, and focus. 
What is it?
1/2 lb. bulk bag perfect for Cafes & Smoothie Bars.
How much?
1/2 lb. bag with 90 servings.
How Powerful is it?
250 mg of extracted Lion's Mane mushrooms
250 mg of extracted Chaga mushrooms
50 mg of caffeine per serving
Can I have it? 
Vegan, Paleo, sugar-free, gluten-free.
Your Brain's BFF
Lion's Mane is your brain's best friend. Long used by the Buddhist monks to help with focus during meditation, this beautiful mushroom is our modern-day favorite for getting creative. The energizing effects of our Four Sigmatic Mushroom Coffee are stabilized with our dual-extracted chaga mushrooms that also help to support your daily immune functions. To enhance our chaga and lion's mane, we add wild rhodiola root, an adaptogen known as 'the golden root', making this our most creative cup of coffee yet.

Organic Instant Coffee, Organic Lion's Mane Coffee, Organic Chaga, Organic Rhodiola